Net metering system on the roof of a commercial building.
An excellent Photovoltaic System case study of the use of renewable resources in Katerini, Greece presented by Ecotec Magazine.
In the state-of-the-art energy class A facilities within an area of 5,000 sq.m. where mineral water "Zeus" is bottled, Karitsa, Pieria, a Net Metering 499.80kW photovoltaic system was used installed, which offers multiple energy benefits to the company, but also the environment.
The photovoltaic installation was installed on the roof and is expected to produce about 670MWh of electricity per year, preventing the release of 670 tons of carbon dioxide.
The installation was undertaken by DNKAT, while "Aleo Solar" panels were used. Upon completion of the project, the DNKAT Executive, Mr Nikos Papakonstantinou, stated:
"Our company aims at long-term relationships of trust with its partners, undertaking the licensing, consulting and construction role in the energy sector. The installation of a photovoltaic system on the roof energetically upgrades our partner's business while substantially contributing to the reduction of electricity costs in the most environmentally friendly way.
"By using high-performance monocrystalline frames of "Aleo Solar", we ensure increased production and smooth operation of the project for many years. With a 25-year product warranty and 98% guaranteed rated power during the first two years, our customers enjoy the security and certainty of their investment ".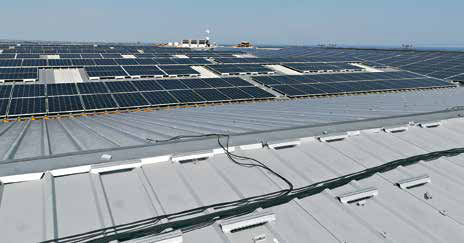 Panel

The mono crystalline photovoltaic frame HE Tec of "Aleo Solar" (P19 300-310W) used in this project has advanced features, some of which are the following:
dimension: 1660 χ 990 χ 35mm.
weight: 19 kg.
cells: 60.
connector: MC4.
back cover: polymer film
front cover: sun glasss (TSG).
cell type: Monocrystalline Si.
power range: 300W-310W.
Project id
Company name: S. Mentekidis SA
Installation address: Water "Zeus"
Photovoltaic system net metering 499.80kW on a roof
Installation materials: 1666 pcs x Aleo High Efficiency P19_300Wp, made in Germany.
Installer: DNKAT
According to the company's estimates, the single crystal HE Tec panels of "Aleo Solar" offer 10% more efficiency compared to other conventional panels on the market.